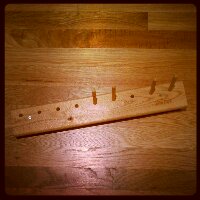 Wood Logic peg board.
*Catching up on 1/21/13*
When we moved to Beacon, we found a few of these peg boards lying around the apartment or stuck to the back of doors. Â I don't think they work all that well, and this one has been living in a crate in the studio.
Seriously, I don't know why I keep this shit.