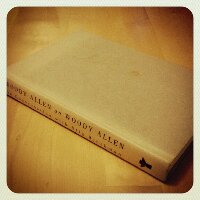 I believe this book belonged to a friend.. can't remember who. Â I think I read about 3 pages of this years ago and that was it. Â No fault of Mr. Allen's, there's just so much to read out there. Â And I honestly don't think I'll ever get around to reading it, so out it goes.
Au revoir, Woody.
Hey guys. Â If you're liking this project, please let me know….
Tweet it, Facebook it, leave a comment. Â Heck, tell me face-to-face.
Regardless, I'll keep doing this, but it would be great to hear from you. Â Maybe you'll join in…….
Peace.