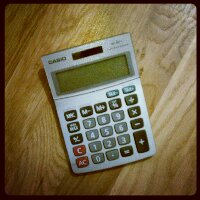 Before I get rid of this, let me say that I own 3 calculators. Â Not counting my phone or computer.
Although I like the weight and balance of this desktop device, I don't need it anymore. Â It's been in a desk drawer (the back of the drawer), and usually gets overlooked when I reach in to grab one of the other 2 calculators that I favor more.
So there you have it. Â Out it goes.