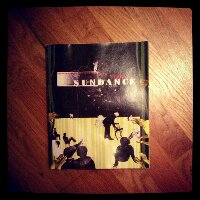 2001 Sundance Film Festival festival guide.
At this point I can't remember if 2001 was my first or second year as a SFF volunteer. Â I remember having such an amazing time in Park City… waking up to snow covered mountains, sharing a house with some of my best friends, immersing myself in nothing but the excitement of new cinema (and watching as many films as I could each day). Â Ahh, the bubble of Sundance where celebrities and ordinary citizens mingle awash a backdrop of snow, booze and media. Â I had never been more excited about filmmaking and technology, storytelling and fantasy.
A couple of months ago I came across this festival guide and was instantly flooded with emotion and nostalgia. Â I had even saved the ticket stubs from the movies I watched that festival (which I threw away before starting this project). Â I haven't been to Sundance in about a decade. Â At one point I vowed that the only way I would return was to show a film.
I'm going to hold on to that dream, and let go of the festival guide.