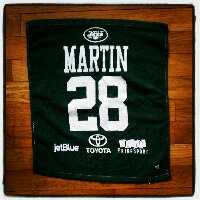 New York Jets promotional towel- Curtis Martin.
If you know me, you know my love for the (ailing) NY Jets. Â You also know that I've owned a Curtis Martin replica jersey and have worn it to every Jets game that I've attended (and most of the games I've watched on TV). Â This man is a true class act, and a well-deserved member of the Pro Football Hall of Fame.
Man, I wish he was our running back now…..