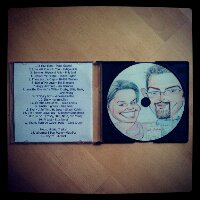 Wedding CD from Craig and Gen Thompson's wedding, 10/16/2004.
As I was typing the description, I just realized that their wedding anniversary is in six days.  Maybe I should have waited to put this up then, in honor of almost 10 years of marriage.
Craig is a great friend who I've unfortunately fallen out of touch with.  We were college buddies and eventually roommates for one amazing year in 1998.  The stories from that house, oh boy…..
His wife Gen is an amazing lady, and I want to wish them an early Happy Anniversary!
To Gen and Craig!!!