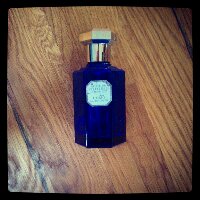 Lorenzo Villoresi Firenze cologne.
I purchased this over 6 years ago in Cape Cod during an AMAZING trip with Deana, Josh and Gregg. Â This was my first visit to the Cape and I'll never forget it. Â Deana and I were engaged and pregnant, and on the way back to NY I lost my voice for the following 2 months.
But about the clologne…I remember the little shop and the joy I felt finally finding something that worked well with my body chemistry. Â I wore it for a while and then stopped wearing cologne altogether. Â I think this is the last scent I've worn.
There's a little left, so jump up and get yours!