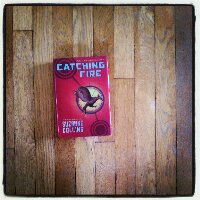 "Catching Fire" by Suzanne Collins. Â The Second Book of THE HUNGER GAMES.
Our friend Abigail sent us all three books of The Hunger Games, which I had heard of but quickly dismissed as another pop-culture fad of entertainment. Â My mom read the trilogy and loved it. Â Abigail loved it. Â There was a movie coming out. Â Ugh. Â The last thing I wanted to do was read these books.
Deana read the first one rather quickly, and after listening to her description of the story I thought I could jump in and plow through these and enjoy myself. Â It might also make me a little more culturally plugged in, which is helpful for a father of two young people.
I enjoyed the first two books, and am slowly getting into the third and final book (newborn hours don't help the situation). Â In the end, I'm glad I'm reading the trilogy.
Abigail does not want books two and three back, so I'm going to pass them along. Â Let me know if you are interested.