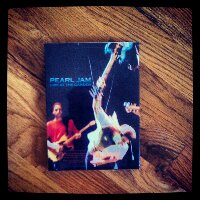 Pearl Jam Live at the Garden DVD.
This was a gift from my friends Jill and Chris for being the best man at their wedding.
Let it be known, the only reason I'm getting rid of this is because I have another copy. Â And that copy is most likely NOT going to end up as a "thing".
I've been a die-hard Pearl Jam fan since 1991. Â I've seen them over 35 times. Â I will continue to listen to this band even if they put out an album of Ed reading the yellow pages.
This DVD is the entire Madison Square Garden show from July 8, 2003 (night one of two). Â The band was on the Riot Act tour and playing at an intense level. Â I attended this night and the next, and the energy in the Garden was off the charts. Â The band ripped through a fantastic set list, delivering one of the most electrifying versions of Rearviewmirror I have ever seen live. Â And Ben Harper joined in on Daughter, trading chorus lines with Ed and slipping into My Two Hands. Â Incredible.
I've seen Pearl Jam many times since that night in July, but this show was special. Â I had a lot going on in my life during this period and am grateful for the emotional security and strength Pearl Jam gave me.
I'll be one of the guys going to Pearl Jam shows until the band breaks up, and I wouldn't have it any other way.