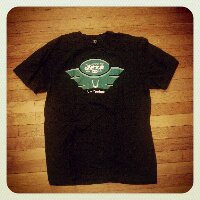 NY Jets T-shirt.
**Catching up on Dec 16**
This was a giveaway during pre-season, back when hope was high and the sky was the limit for this year's team.  And then we imploded again.
I'm still amped for a possible playoff run, but it's looking like we have a slim chance of making it.
Regardless… J-E-T-S JETS JETS JETS!!