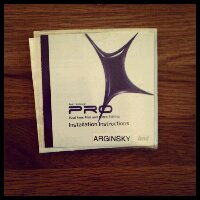 Avid Xpress PRO discs.
**Catching up on Dec 19**
I used to work exclusively on AVID for about 5 years, then slowly made the switch over to FCP. Â I LOVED working on AVID. Â I enjoy FCP as well, but really became proficient and quick while working on AVID. Â I found it a more intelligent and better managed application. Â Now there's FCPX, which I've only used once and was utterly confused while doing so. Â And I believe AVID is on Media Composer 6.5, which is supposed to be amazing. Â If and when I make the switch to a new editing setup, I think I'm going AVID. The new FCP might be too much of a learning curve and making the switch to Premiere seems crazy.
These discs are so old and are of absolutely no use to me anymore.