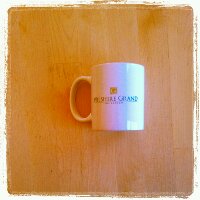 Mug from the Wilshire Grand Hotel in LA.
**Catching up on Dec 19**
I snatched this mug from a conference room at the LA Wilshire Grand Hotel.  On a video job, we were shooting in a conference room at the Grand, and they left a tray of mugs for us to use for coffee, etc.  At the end of the day they had taken away most of the food, but left the mugs.  I thought it would make a nice souvenir.