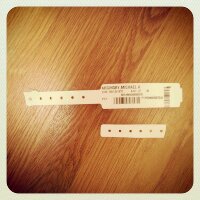 Emergency room bracelet.
**Catching up on 3/3/13**
PART 1:
One good aspect of writing this blog a month later is having some perspective and the ability to reflect on the past. Â One bad thing is I have a lot of catching up to do and I feel like a bit of a slacker. Â Granted, my arm was in a sling for most of February, but still….
Deana and I cancelled our Empire health insurance for January because our MVP coverage started today (02/01/13). Â It was a bit of a risky move, especially with children, but they are covered under other plans so we thought hey, let's save the $816 and hope for the best. Â So it goes like this….
On Friday, February 1st, I attended the Randolph School ski trip to Catamount in MA. Â I'm getting back on a snowboard after about 15 years and couldn't be more excited. Â The day is a bit chilly, and as northeast snow goes, it's a typical day on the mountain>> mostly man-made and a bit icy, but manageable. Â I take a bunny hill run with Anabelle and then she's ushered off for her lesson so I've got about an hour before breaking for lunch and helping out the kids. Â I ride the lift with a few friends and begin to descend, following behind the skiers so I can shake off the rust and not feel rushed. Â After a few minor spills turning towards my heel side (which doesn't feel like it's holding so well, but I can compensate), I have a beautiful run. Â I'm in the trees and on the mountain and I feel like a high school kid again.
About 3/4 of the way down the hill, I turn and catch an edge. Â I launch headfirst towards the snow and land directly on my right shoulder, hearing a crackle and feeling incredible pain. Â But I've done this before (without the crackle) so I start to evaluate. Â When I move my right arm, there are parts moving and popping under the skin. Â My shoulder burns and my head hurts. Â I need to get to the bottom of the hill quickly. Â I carefully get up and finish the run as the pain grows in intensity and I begin seeing stars. Â The moment I arrive at the lodge, I wave over my friend Dylan and drop to my knees, about to either faint or vomit or both. Â Neither happened, but I took off my helmet and was assisted to the ski patrol/ first aid where I was evaluated and given a makeshift sling to stabilize my arm. Â I needed to get to the ER.
After a quick and composed goodbye to Anabelle and the Randolph School folks in my path I took a ride with Jeff to St. Vincent's Hospital in Poughkeepsie. Â I was seen incredibly quickly and after a painful X-ray and evaluation, I was diagnosed with a clavicle fracture, recovery time 4-6 weeks but professional opinion necessary to confirm. Â Two percocet later and a car ride back to Beacon I was on the couch and starting a painful and exhausting and beautiful journey to healing.
This was the bracelet I was given in the ER. Â I'll always have the memories of what happened, so I'm not keeping the bracelet.
PART 2:
Today the countdown begins- 100 Things to go. Â Almost a year has passed and I've had an incredible time with this project. Â How interesting that the countdown begins with a challenge…broken bones…