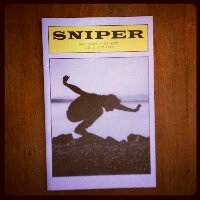 Eddie Vedder 2009 solo tour playbill.
*Catching up on 3/21/13*
I would never give this away if I didn't have another copy. Â Some things I just have to keep.
This was the program that was handed out during the 2009 East Coast/Far West tour in June-July 2009. Â I attended the first show at the Palace Theater in Albany, NY. Â Mind blown as expected.
Having a 20+ year relationship with Pearl Jam, I was intrigued to see what a solo Ed Vedder show would be like. Â I attended a couple of shows in 2008, and was hooked. Â It was so beautiful and intimate and powerful. Â That man's voice hits me directly in the chest and makes me feel my humanity.
I don't remember the set list for this show, but I do remember buying a copy of Robert Shetterly's "Americans Who Tell the Truth" and writing a personal note to Ed, which I placed inside the book and then tried to give him during the end of the show. Â It didn't work, and my ride was leaving, so I ended up giving the book to someone claiming to be the stage manager and hoping he was able to deliver it to Ed. Â I've never heard anything since then, so either the book never made it to Eddie, or more likely, he's inundated with gifts at shows and it's sitting in a pile somewhere in Seattle. Â I hope he gets it someday because the book is amazing.
And Liam Finn opened this show, which set me on fire from his first note. Â Liam is off the charts…