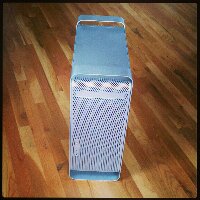 Power Mac G5, circa 2005
*Catching up on 4/16/13*
This was my workhorse. Â Buying this computer allowed me to edit at home with my AVID software (and later FCP). Â This was the last Power Mac release before the Intel processors, so I got left behind rather quickly once that happened. Â But I got great mileage out of this. Â My most memorable moments were creating "Arc", my video piece for Pearl Jam's video contest. Â I wish I could tear this machine apart and inexpensively rebuild it to today's specs.
I believe the specs are as follows: Â Dual 2.5Ghz processors, 2.5 GB RAM, 160 GB HD, OSX 10.5
Sigh… goodbye old friend.