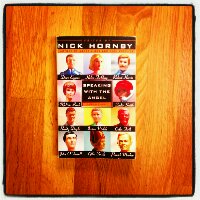 Speaking With the Angel, edited by Nick Hornby
*Catching up on 4/16/13*
Great collection of original short stories. Â Authors include:
Dave Eggers, Helen Fielding, Robert Harris, Melissa Bank, Zadie Smith, Roddy Doyle, Irvine Welsh, Colin Firth, John O'Farrell, Giles Smith and Patrick Marber.
Of course the one that first comes to mind involves teenagers having sex while blasting a punk record..