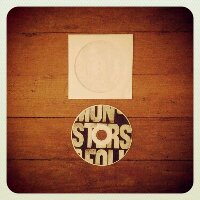 DVD master for Monsters of Folk "Dear God (sincerely M.O.F.)" music video.
In 2009 my friend Cory called with an opportunity for me to enter a music video contest for the band Monsters of Folk. The contest winner received $5k. Even though life was crazy at the time and the deadline wasn't far off I said oh hell yes.
With a lot of volunteered time and effort from friends, I pulled off a small shoot and submitted a video on the day of the deadline.
The video was chosen as one of the runners up, and I was sent a signed vinyl copy of the record. Pretty cool stuff.
This DVD is my master copy. But since most video is showing on the web, I don't think I need to keep this.
Thanks again for the opportunity Cory…
You can watch the video here about halfway down the page. Enjoy!