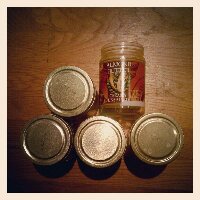 5 almond butter jars (only 4 with lids).
For those thinking "what? they are just empty jars, those don't count!", well, not entirely.
I've had these for about 2 years and have used them for mixing paint, washing brushes, etc. Â So I look at them as accessories.
Regardless, I'm going to clean and put them into the recycle bin. Â We eat so much almond butter in this house that I'll be able to find another jar sometime soon (if need be).