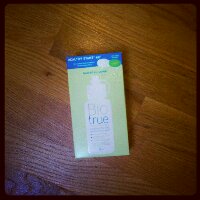 Bausch + Lomb Bio True multi-purpose solution.
My mom recently gave this to me, but I don't wear my contacts that often, and when I do, I don't use solution. Â So I contacted my brother, who does wear contacts, and does use solution. Â He's taking this when we next see each other.
Also, it's official- I'll be at the Beacon Flea Market this Sunday the 16th. Â Here's a link to the great shout out given by Emma Dewing on the Beacon Flea blog: Â HERE
Super cool. Thanks Emma!!