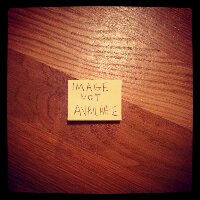 Klean Kanteen water bottle, 27oz classic.
You can see the bottle here. Â I had the brushed steel with sports cap.
For this Thing, my hand was kind of forced, because I don't think I would have voluntarily gotten rid of the bottle, but I lost it while on a video shoot at the Lotus Festival in Bloomington, IN. Â I was helping out my friend Dan as he documented the amazing vocal quartet Vida, who hadn't sung together in about 6 years. Â I left the bottle in the green room and the next night it was gone. Â I did spend a good 15 minutes searching for it, but eventually took a deep breath and let go.
As for the trip, the experience was incredible and creative and spiritual. Â If you have never been to Bloomington, go. Â And go during the Lotus Festival.