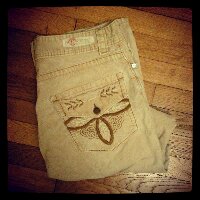 Division E corduroy pants.
These are hands down the best cords I have ever owned. Â Plus, they have the coolest pockets ever. Â EVER.
I wore them at Anabelle's first birthday party. Â I've worn holes in the knee and the corduroy no longer exists on the front of the pants. Â I would wear these till they were transparent, but that's going a bit too far.
I'm offering these up to the wonderful and talented Margot Kingon to see if she can whip them into something wonderful…a bag maybe?