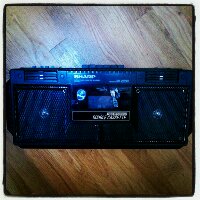 Sharp Stereo Radio Cassette Recorder
That's right.  Twin mechanism, double cassette.  AM/FM radio.  3 band graphic equalizer.
Man, I love this thing.  I used to have it in high school and remember it fondly.  Unfortunately, I don't think the tape decks work anymore, and the only tapes I have are too valuable to put into this machine.  It puts out great sound, and I only wish they made radios like this today….
Come and get it!