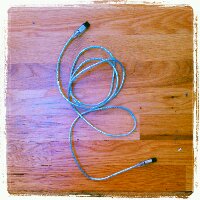 Firewire 800 to firewire 800 cable.
**Catching up on Dec 19**
Most videos I edit are shot tapeless, and the media is delivered to me on hard drive.  I have a 4TB drive with an ESATA connector, which is much faster than FW800.  I prefer to use that when editing or transferring media, so I don't have to hold on to excess FW800 cables.  One day I might jump on the Thunderbolt bandwagon and then my SATA cables will be useless as well.