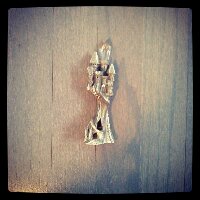 Pewter castle with crystals.
**Catching up on 3/3/13**
Another gem from the findings at my parent's house.
In high school I got really intrigued with castles and Medieval things.. kings, dragons, secret rooms and passageways. Â My parents got me a few pewter pieces and this was one of my favorites. Â I would imagine all the mysteries in the little caves and hidden rooms. Â I love the skulls that line the top of the towers. Â I wished for secret rooms and trapdoors inside of this castle..
It's hard to let this one go. Â But it's just going to sit in a box for another 20 years and so I'd rather it find a home to someone who would enjoy it.