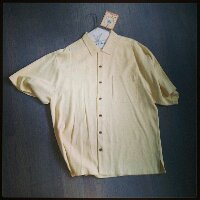 Tommy Bahama shirt 1 of 3.
**Catching up on 3/3/13**
My father is obsessed with clothing.  He loves buying me clothing.  Good it theory.
Here is a shirt he bought me from Tommy Bahama that I didn't wear.  It's about two sizes too big for me and I felt uncomfortable wearing it.  I'm giving it back to him.