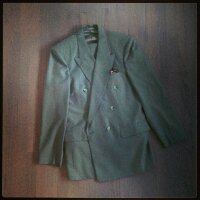 Mint green suit from Hong Kong.
**Catching up on 3/3/13**
Since it's Valentine's Day, I'll represent a suit….
My parents took my brother and me to Hong Kong when we were younger.  At the moment, I can't remember what year we went, but I know I was still shooting film (not digital) and I know I was still angsty enough to not want to have a suit because that's what "the man" wears.  Not even if it's a hand-made suit from Hong Kong.  So instead I had a mint-green suit made figuring if I have to wear a suit, let me wear something unconventional and different.  Something that could stand out.  Well, I think I wore this once, maybe twice and it's been sitting in a closet for decades.  What a waste on my part.  I should have been smarter and had the tailor make something I actually would have worn.
Older and wiser, right??