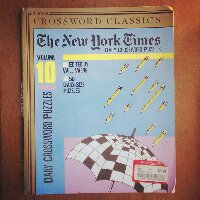 New York Times Daily Crossword Puzzles volume 10.
*Catching up on 3/21/13*
Puzzle 42:
48 Down- Â 6 letter word for an Upstate N.Y. city
I was hoping the answer was Beacon, but this book came out in 1982 when Main street was on fire and riddled with crack, so they chose Elmira. Â They could have been ahead of the curve….