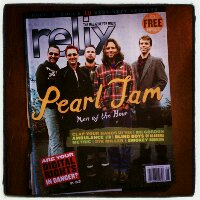 Relix magazine August 2006.
*Catching up on 3/21/13*
I got this magazine for the Pearl Jam article. Â PJ was releasing the self-titled "Avocado" album, and seeing that I love all things Pearl Jam, I had to read. Â I've saved it since then and realized that I don't need to keep this anymore. Â I love reading anything about the making of an album, or about band life but time to let it go. Â I only saved the pages relevant to PJ.
And as an aside, I enjoy the "Avocado" album. Â I think they did some great work on it. Â I especially love that they played the album from start to finish at one of their shows in Italy. Â Great, moving performances of these tracks… check it out.