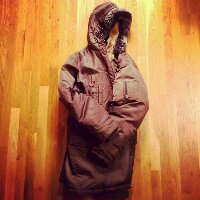 555 Soul parka.
*Catching up on 4/16/13*
This was a $120 purchase about 8 years ago when I worked in SoHo.  The parka was on sale from $250 and at the time I had money to spend, so I jumped all over it.  It was the best $120 I have ever spent.
I LOVE this parka.  It's incredibly warm and cozy.  I've fallen asleep numerous times in cars or busses while wearing this.
Most notable memory:  Wearing this to the new MOMA NY right before taking a trip to Mexico where I proposed to Deana.  The parka was pretty much brand new and the attendant broke one of the button loops when giving back the jacket.  It happened right in front of my face and they did nothing to right the situation.
Favorite feature:  The pockets.  2 chest pockets, two hip pockets and a zipper pocket on the arm (perfect for keys).
It's still in great condition if anyone needs a parka next winter.