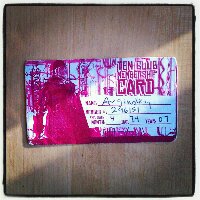 Pearl Jam Ten Club analog membership.
This means that I'm remaining a proud and participating member of the Pearl Jam Ten Club, just switching my membership from the analog option to the digital option. So I'll still get everything listed below except items listed in the PLUS category.
This was a difficult decision, because I really enjoy sitting with the hard copy of DEEP, and I was hoping to have a record player again someday and breaking out the vinyl. But I'll allocate the funds to live shows and live the experiences that way. Over the past 21 years the band has given me infinite indelible sonic and visual memories that I always have with me. They live in my bones and in my soul.
See you guys out there in the fall…
ANALOG TENCLUB MEMBERSHIP INCLUDES:
Analog Level $40
– Full Website Access
– Exclusive Streaming Content
– Ten Club Single MP3
– Deep Magazine PDF
– Members-only Contest Eligibility
– Members-only Merch Discount Events
– Access to Members-only Merch
– **Access to Fan Club only Ticket Pre-sales
**You must be an active paid Ten Club member as of the pronounced deadline to be eligible for any current pre-sale opportunity.
PLUS
– Free Bootleg Download- Coupon code listed in "My Membership"
– Limited Edition Vinyl 45 Ten Club Single
– Limited Edition Hard Copy of Deep Magazine
– *Limited Edition Membership Item – This will be something new each year!