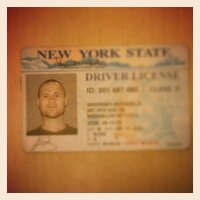 Driver's license, issued 09-09-05.
Happy Mother's Day to all y'all moms out there….
I'm not giving up driving, but this license expires tomorrow and I received the new one already, so I'll make some college kid a hero and pass this along (kidding).
I look at the person in the photo and can't believe who I was back then… No wife (but involved with Deana), no children, employed and with money, meat-eater, pot smoker, exerciser, Brooklynite. So much has changed, yet so much has stayed the same. As much as I miss that guy, I'm excited for the guy in the picture on the new license. He's got big shoes to fill.
There you have it. One year, 365 things. I want to give a huge thanks to Deana and the girls, who supported and tolerated this project. It will take some reflection and meditation to put this into perspective, but I'm so happy that I undertook this experiment and stuck with it. And a big thank you to anyone reading these blog entries or following along on Twitter and Instagram. As my first foray into social media, I think we did pretty well together.
I have a few more projects brewing, so please stay connected, and keep your eyes, ears and Internet open because I'd like to believe this is the beginning of exciting and hopefully life-changing things to come.
Peace,
Michael