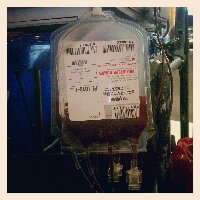 My blood.
Every good show deserves an encore (or two). So here is my encore, a blood donation during the 100 Units of Love drive that happened today at the Beacon Hebrew Alliance. The drive was put together by my amazing friend Rabbi Brent Spodek. His wife Alison was diagnosed with Leukemia in March (at 37), and this was another one of the beautiful community efforts to help not only her, but others in need. The Spodeks are good friends of ours and it was devastating when Alison got sick.
The atmosphere at the blood drive was magical. The juice and cookies were abundant, and there was a sea of familiar faces lining up to donate blood. This is exactly what this Beacon community does. We represent and take care of each other. I love living here.
I couldn't think of a better "Thing" to pass along. The ultimate give.